Posted on March 4, 2017
Hi! I'm Mary Jo, and I'm a book addict.
Everyone: "Hi, Mary Jo!"
Seven months ago I moved from Mississippi to Tennessee, and I still haven't unpacked the last 20-30 boxes out of the 160 boxes of books I hauled across the state line. Even so, in addition to randomly buying a few books now and then since my move, I acquired 3 more boxes of books at the going-out-of-business sale at Bookman/Bookwoman, a delightful bookstore in Nashville that closed at the end of 2017—much to my dismay, especially since I now live within easy driving distance.
So when my assistant teacher told me about the Williamson County Library book sale this weekend, I told him—in front of the entire class of 7th-8th graders—not to tempt me because I. Would. Not. Go.
Of course, somehow I found myself at the book sale this morning anyway. My van is apparently preprogrammed to drive to book sales, almost against my will. Almost. I even kept up the pretense of self-discipline by taking in only 2 of the 3 tote bags I keep in the car for just such emergencies.
I'm reasonably selective about buying new books, but secondhand book sales are another matter altogether. The books are inexpensive, and they might not be there later if you don't buy them when you first spot them. Stocking up at a library sale or thrift store is a relatively low-risk gamble—even if you're not sure you'll like an impulse purchase or you have a sneaking suspicion you might already own a copy of one (or more, ahem) of the books you're buying.
Today's haul provides a good example of my strategy in practice:
Build your own home library.
Collect books by and about favorite authors.
Collect books about favorite topics.
Take a few risks.
Build your children's library.
By the way, I teach a one-hour workshop on choosing and using good books for the whole family. You can find out more about that on my speaking page.
Build your own home library.
This category, of course, encompasses all the others, but I'm thinking here about intentionally building a collection of classic literature and a wide variety of nonfiction books as a personal reference library. "Will you read all of those?" the library-sale volunteer inquired as I hefted two overstuffed bags to the "counting table." Well, not necessarily, and certainly not any time soon. But they'll be there if and when I need them.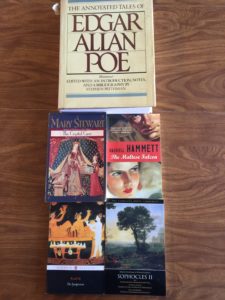 Last fall I started teaching 7th-8th-grade English, logic, and Bible at Franklin Classical School in Franklin, Tennessee. We go through a two-year cycle of ancient and medieval literature, so I picked up Plato, Sophocles, and a book of Arthurian legend. True confession: I will probably never read Sophocles II . . . but I own (and have taught) Sophocles I, so buying it just seemed like the right thing to do. I once indexed a book about hard-boiled detective writers, including Dashiel Hammett, and The Maltese Falcon is a classic in that genre. I loved the work of Edgar Allan Poe when I was younger, but now I find him a bit too creepy. However, I couldn't pass up this annotated edition of his stories—which I'm pretty sure weighs more than at least one of my sons at birth.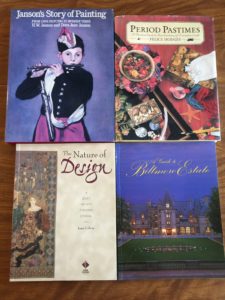 I've been homeschooling my 4 sons for 20 years now, so I collect good books on topics like art. Janson's Story of Painting made a nice addition. My third son, Perry, and I enjoyed a visit to the Biltmore Estate a few years ago, so I was glad to find this lovely photo book. (Photography is forbidden inside the estate. Killed me not to photograph the amazing library there.) I collect books about various crafts, and the historical approach to Period Pastimes seemed like an interesting spin. I have several books about quilting (and a single almost-finished quilt of my own, as well as a few I've inherited), but The Nature of Design intrigues me because it focuses on "the mind of an artist in the process of creating art." I collect books about creativity too, but this one will probably be shelved with quilting books.
Collect books by and about favorite authors.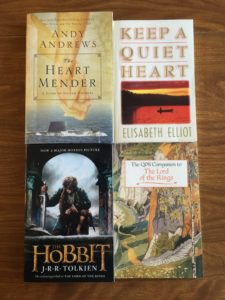 I've read and collected Elisabeth Elliot for many years, but I didn't have Keep a Quiet Heart. Now I do. My oldest son, Forrest, is a die-hard Tolkien fan. We had to fight a custody battle over our shared Tolkien collection when he went to college and then later when I moved, so I'm building up my collection again. Of course I already have several copies of The Hobbit, but I didn't have the movie tie-in edition. (Don't get me started on the many ways the movies diverged from the book. I just have to accept them as separate artistic entities.) I really enjoyed The Traveler's Gift by Andy Andrews, and I've heard him speak (He's fabulous!), so I picked up a copy of The Heart Mender.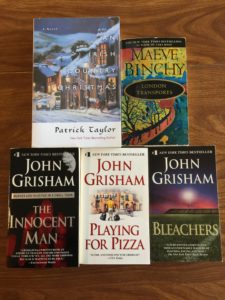 When I want a lighter read (not all reading has to be studying and annotating Augustine's City of God), I often turn to John Grisham and Maeve Binchy—both excellent storytellers. I'm not crazy about Playing for Pizza and Bleachers because I just don't care about sports, but I'm about half-sure I don't have these two, and I want a complete collection. If, when I unpack my Grisham collection, I discover I already have these, it's no big deal. They were only 50 cents apiece. Reasonably sure I don't own The Innocent Man; I think I read a library copy. Again, at 50 cents, it's not a big gamble. I own most of Maeve Binchy's books, but I'm not sure about London Transports. Binchy's work led me to Patrick Taylor, another Irish author. (I visited Ireland a few years ago and fell in love with the country!)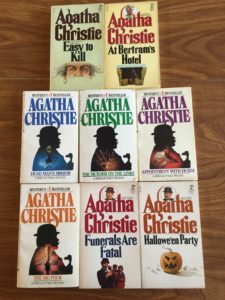 I'm certain I already own all of these Agatha Christie mysteries, but not in these editions. Even serious bibliophiles might think my Christie collection is over the top. I buy as many different editions of all of her books as I can find. They're a fascinating case study in publishing history. My favorites are the ones with the lurid, groovy covers from the 1960s—much more lurid than the plots, in fact. These more recent cover designs are downright boring—especially the ones with the white backgrounds. One of these days I'm going to finish cataloging and shelving my Christie books, and I'll write a post (or several) about it.
Collect books about favorite topics.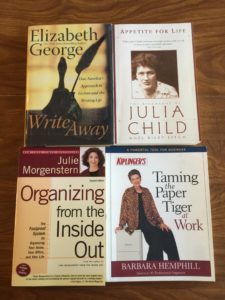 I've always been fascinated by the topic of organization, and I wrote about it in my own book, Flourish. I have 5 filing cabinets, so I definitely need advice about taming the paper tiger. I'm pretty sure I already own Organizing from the Inside Out, but there was enough doubt in my mind to justify a $2.00 gamble. (Are you starting to see a pattern here?) As an author and editor, I collect books about writing. I've never read Elizabeth George's fiction, but I happened to notice a display copy of this book on my way into the library, so when I found a copy on the sale table, I figured I should buy it. I'm not a great cook—in fact, I barely get by in the kitchen—but I love biographies, especially of successful women, so I grabbed this biography of Julia Child. My interest in her was triggered by the movie Julie and Julia.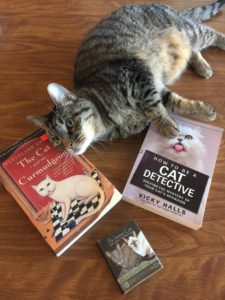 Yep—I'm a crazy cat lady as well as a crazy book lady. Just last night I was unpacking a few boxes of children's books, and I noticed that we have quite a few picture books about cats. How to Be a Cat Detective: Solving the Mystery of Your Cat's Behavior was actually on my Amazon wish list after a fellow editor and cat-lover recommended it to me just last week. Dixie was fascinated by these and quickly disarranged my photo shoot. She's more artistic than I am. (Cat not included with book purchase.)
The Nature of Design and Period Pastimes from the "Build Your Own Library" category would fit here as well. Just like some books fit in more than one collection, some fit in more than one book-buying strategy.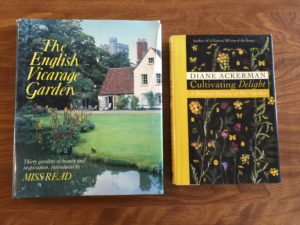 I'm most excited about these two. I've always been fascinated by beautiful gardens and had collected quite a few books, but vegetable gardening was a terrible failure. In fact, I was planning to sell most of my gardening books, until I bought my new house in Tennessee, which came with a beautifully landscaped yard and lots of flowers. A garden-loving friend (who happens to be the same as the cat-loving friend mentioned above) inspected my garden and told me that while it's not no-maintenance, it's low-maintenance, and she thinks I'll enjoy working in it. So Diane Ackerman's book Cultivating Delight: A Natural History of My Garden was a perfect find. I also picked up The English Vicarage Garden just because the cover image was so enchanting . . . and then I saw that it has an introduction by Miss Read—one of my favorite authors. It's going to be hard to decide where to shelve that one; I'll probably put it with Miss Read rather than the how-to gardening books. This is a great example of why I love the serendipity of book-hunting!
Take a few risks.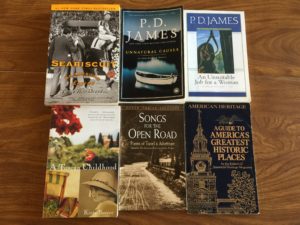 I've already talked about the low-risk gamble of buying duplicates of books you may already own. Here I'm talking about moving out of your book comfort zone and trying new authors and topics. I picked up two P. D. James titles because I've been binge-reading other female mystery writers (Agatha Christie, Ngaio Marsh, Margery Allingham, and now Dorothy Sayers) for several years, so I thought I'd give James a try. Seabiscuit gets a lot of praise, and I live in horse country now. I don't read a lot of poetry, but I love to travel, so Songs of the Open Road caught my eye. I'm eager to visit Italy someday ("eager" is an understatement), so A Tuscan Childhood looked appealing. I love to visit places with literary or historical significance, so I grabbed the American Heritage Guide to America's Greatest Historic Places. If any of these turn out to be bad choices, I'll donate them back to the library. No big deal. But they might be fabulous.
Build your children's library.
I always give my boys books for every Christmas and birthday. (I give them other gifts too, but books are always included.) I also pick up anything I think they'll find interesting or useful when I'm binge-buying at a library sale.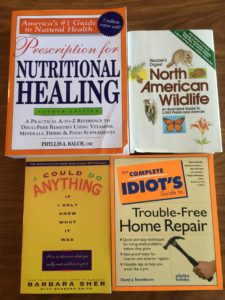 My oldest son, Forrest, is buying my old house in Mississippi (which he's currently renting from me) after he gets married in May. It's an as-is deal, and he and his bride-to-be plan to do a lot of repairs themselves, so The Complete Idiot's Guide to Trouble-Free Home Repair is for them. My second son, Andrew, is a junior in college and trying to figure out what he really wants to do in life. Barbara Sher's book I Could Do Anything If I Only Knew What It Was is already on my own shelf, but I picked up a copy for him today. My third son, Perry, will soon be entering nursing school, so I picked up Prescription for Nutritional Healing as a reference for alternative medicine to complement the traditional approach he'll be learning in school. North American Wildlife is a must for every homeschooler's home library. I already own a copy, but I picked up a spare, which I'll give to whichever son is the first to start homeschooling his own children someday.
I hope you've enjoyed today's book-collecting adventure. What are your favorite kinds of books to add to YOUR home library? I'd love to hear from you in the comments.
P.S. I guess I'll have to confess this to my class next week.