Posted on September 18, 2017
In To Be Where You Are, Jan Karon welcomes readers back to Mitford and Meadowgate in alternating chapters. We've gotten so immersed in Jan's delightful books that it's like we're "livin' in a whole other place," as Coot Hendrick thinks about his current read.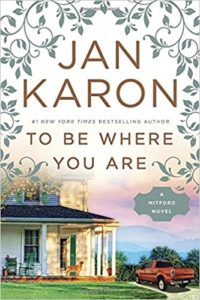 As always, Father Tim ministers to the people around him, reflecting, "Wasn't his own town a mission field?" Cynthia relishes the joys of being Granny C to four-year-old Jack Tyler, whom Dooley and Lace are in the process of adopting. Married almost four months, Dooley and Lace are facing a financial crisis that turns their home upside down. Each of Dooley's siblings faces new challenges. Avis Packard and Grace Murphy both have major storylines, and it's good to get to know both of these characters better.
The novel covers October 1 through December 25, then jumps to June 2 of the following year, when Cynthia gets the desire of her heart. The specific dates in the chapter titles highlight the daily nature of life, reminding us that Jan writes to "applaud the extraordinary beauty of ordinary lives." She explores the themes of the importance of community, the meaning of family, and the necessity of forgiveness in powerful ways.
When Lace is struggling with a major painting project, she ponders: "It was not to be like a poster that gives fleeting pleasure, or a painting on the side of a barn that fades with time, it was not to be ephemeral. It was to be an actual place to the onlooker, impervious to time, with chickens scratching in a dust that never settles." This is a perfect description of the beautiful world of Mitford that Jan Karon has so lovingly, diligently, and skillfully created. Most of the junk that is published today is as fleeting as a poster, and a few things fade more slowly like a painting on the side of a barn, but Jan's books are deep and authentic and powerful and true and lasting. Mitford IS an "actual place to the onlooker," as her legions of devoted readers can testify.
To Be Where You Are is available in several formats:
A reader's guide for book clubs is available free on Jan's website.
You can learn more about Jan's books on her website and follow her on Facebook.
Disclosure: Some links in this post are affiliate links. This doesn't cost you anything extra, but I make a small commission when you purchase through them.
---