Posted on April 14, 2011
One of my favorite authors, Eudora Welty, was born 102 years ago today. It's hard to believe it's been almost 10 years since I attended her funeral, which I wrote about for the Dictionary of Literary Biography Yearbook.
I was privileged to meet Miss Welty at a writing conference in the late 1980s. In this photo, I'm handing her my first edition of her novel Delta Wedding to sign.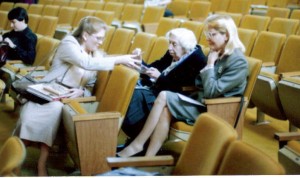 If you've never read Welty, start with her delightful autobiographical volume, One Writer's Beginnings. It's one of my favorite books.
The Mississippi Writers Page is a great place to start finding out more about Eudora Welty. Enjoy!