Posted on December 23, 2011
One of my favorite parts of Christmas is reading aloud in front of the fire and the Christmas tree lights each evening in December.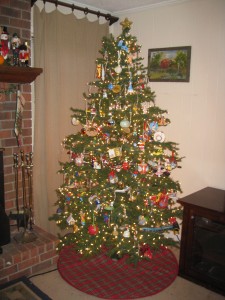 This year we're reading The Handel's Messiah Family Advent Reader, which includes 28 nightly devotionals and an audio CD with related bits of The Messiah to accompany each reading. A "Read More About It" section in the back provides additional details and resources for digging deeper on each topic.
In addition to our nightly Advent reading, we often read a Christmas picture book. I've already posted about The Baker's Dozen: A St. Nicholas Tale. Since we love our 6 cats, we also enjoy The Twelve Days of Christmas Cats, read/sung to the tune of "The Twelve Days of Christmas." If you've ever mixed cats and Christmas, you'll understand the line about "a kitten in a fir tree"!
One of our favorite Christmas books is An Orange for Frankie by Patricia Polacco. It's a sweet story of family togetherness and unselfishness.
In honor of Frankie's orange, we place oranges on our mantel each Christmas (along with our cherished nutcracker collection).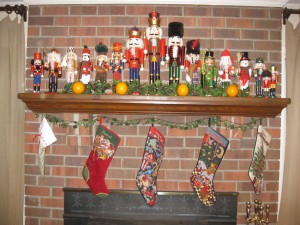 What are your favorite Christmas books and traditions?
---